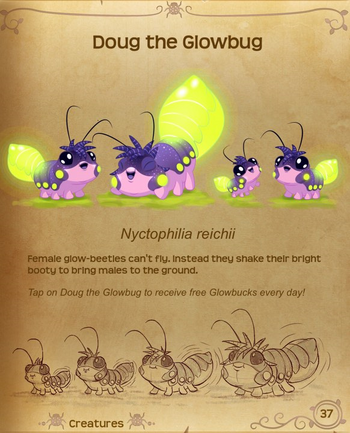 Scientific Name: Nyctophilia reichii
Description: Female glow-beetles can't fly. Instead they shake their bright booty to bring males to the ground.
Tap on Doug the Glowbug to receive free Glowbucks every day!


Description not unlocked: Get a Glowbug to unlock.

Doug the Glowbug comes around after purchase from the Shop. After purchase, Glowbucks may be received by tapping him daily.
Rent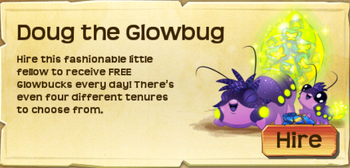 Doug the Glowbug is not a permanent feature. He will give Glowbucks based on the amount of time he is purchased (rented). His appearance for each period also differs. Renting Doug also opens up his flutterpedia silhouettes. However, only the silhouette for the Doug purchased will be unlocked. This applies to the Week, Month, and Season Glowbugs. Purchase of the fourth, Annual Glowbug, will unlock the entire flutterpedia page.
The amount of Glowbucks received from Doug's different forms are as follows: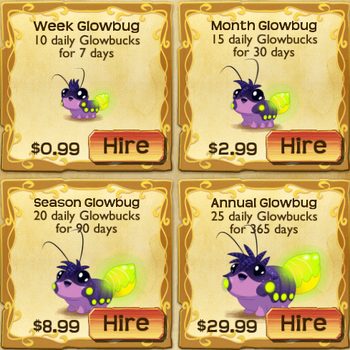 Speeches
On Giving Daily Glowbucks

– Don't spend it all at once!
– It's beautiful. Just like me!
– Lucky you!
– Generous and charming, I'm the whole package!
– Oooh, sparkly.
After Daily Glowbucks are given

- I'll be tomorrow ready to share the glowy love again.
- Hey look chill out alright, more coming tomorrow!
Idle

- How does my hair look?
- I'm the highlight of this forest. Obviously!
- It's tough being so bright all the time.
- Lighting up the forest with just a smile… Oh, and this massive glowing thing on my butt.
- I can't wait to give Trevor a makeover.
- Aren't I just glowing today?
- Michelle just won't listen to my style advice. Her loss!
- Crystals are SO uncool. Come on Michelle get with the program.
Notes
If Doug is purchased, and moved into storage, his timer will still count down from the day of purchase, event if he is not in the forest.