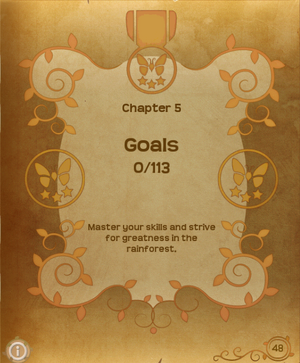 Goals can be achieved by players during their gaming experience to gain a wide variety of rewards. All available goals can be reviewed in the fifth chapter of Flutterpedia, as well as the progress and rewards of each one.
Each page shows ten goals, whether you've earned them or not. A bright green checkmark

and a medal will show that you've completed that goal, otherwise you will see a progress bar and a greyed out medal.

The rewarded Medals represent the stages of goals, therefore it's not possible to achieve a stage 2 goal, which would reward a silver medal, without completing the first stage with a bronze medal.
Goals can reward players with attraction Attraction Flowers,

Toad Treats, Glowbucks

, Coins and Building Resources (like

Sap,

Twigs and
Leaves). Each goal can be completed only once, and some of them require players to spend Glowbucks or be connected to the social networks.
There are currently 113 goals available.
List of goals
| | Goal | Description | Reward |
| --- | --- | --- | --- |
| | Barkbug Hunter | Find the barkbug 10 Times | |
| | Speedy Egg | Hurry an egg | |
| | Merge Maestro | Fuse 20 moths | 20 |
| | Self Help | Check the 'Help' section in the settings menu | |
| | Big Picture | Zoom fully out | 15 |
| | Fine Detail | Zoom fully in | |
| | Newborn | Hatch 15 caterpillars | |
| | Speedy Caterpillar | Hurry a caterpillar | |
| | Speedy Pupa | Hurry a pupa | |
| | Moth Spy | Look at the detail page of 10 moths | |
| | Lepidopterist | Flutterpedia score over 500 | |
| | Frequent Flyer | Play 2 days in a row | |
| | Leafbug Hunter | Find the leafbug 25 Times | |
| | Storage | Store a moth | |
| | Speedy Flower | Hurry a pollen flower | |
| | Growing Up | Upgrade 2 pollen flowers | |
| | Level Up | Level up moths 5 times | |
| | Shift Worker | Set 20 flower shifts | |
| | Migration Master | Fly your moths 100 yards | |
| | Newborn II | Hatch 25 caterpillars | |
| | Salad Savant | Feed your caterpillars 100 times | |
| | Petal Power | Attract 20 common eggs | |
| | Buzz Kill | Feed the toad 25 times | |
| | Petal Pursuit | Catch 5 floating petals | Toad Treat |
| | Frequent Flyer II | Play 5 days in a row | |
| | Collector | Complete your first set | |
| | Animal Attraction | Use 3 100% flowers to attract an egg | |
| | Super Power | Max level up a moth | |
| | Big Spender | Spend 25,000 coins | |
| | Small Scale | Attract 20 small eggs | |
| | Barkbug Hunter II | Find the barkbug 50 Times | 60 |
| | Medium Scale | Attract 10 medium eggs | |
| | Leafbug Hunter II | Find the leafbug 100 Times | 60 |
| | Seed Sequester | Collect 50 floating seeds | 1 |
| | Uncommonly Good | Attract 10 uncommon eggs | |
| | Serendipity | Use 3 non-100% flowers successfully | |
| | Perfection | Create 5 100% flowers by fusion | |
| | Merge Maestro II | Fuse 50 moths | 2 |
| | Level up II | Level up moths 25 times | 90 |
| | Ta-da! I | Fuse flowers 50 times | |
| | Perfection II | Create 10 100% flowers by fusion | |
| | Migration Master II | Fly your moths 500 yards | 3 |
| | Expansion Expert | Expand Forest 10 Times | |
| | Rare Talent | Attract 5 rare eggs | 1 |
| | Big Spender II | Spend 250,000 coins | 5 |
| | Long-Haul | Set a 20 hour shift | 2 |
| | Super Power II | Max level up 5 moths | 5 |
| | Hayfever | Collect 1,000 pollen | 500 |
| | Lepidopterist II | Flutterpedia score over 1000 | 5 |
| | Newborn III | Hatch 100 caterpillars | 10 |
| | Large Scale | Attract 5 large eggs | |
| | Petal Pursuit II | Catch 20 floating petals | 3 |
| | Egg-citing I | Use moths to lay 10 eggs | |
| | Shift Worker II | Set 250 Flower shifts | |
| | Small Scale II | Attract 50 small eggs | |
| | Barkbug Hunter III | Find the Barkbug 200 Times | |
| | Big Spender III | Spend 1,000,000 coins | |
| | Petal Power II | Attract 50 common eggs | |
| | Salad Savant II | Feed your caterpillars 500 times | |
| | Ta-da! II | Fuse flowers 500 times | |
| | Leafbug Hunter III | Find the leafbug 400 Times | 5 |
| | Medium Scale II | Attract 50 medium eggs | |
| | Hayfever II | Collect 2,500 pollen | |
| | TBA | | |